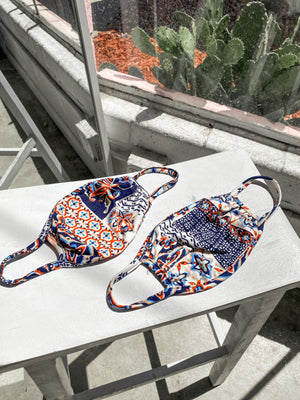 PUEBLA FACE MASK
All face mask have a unique pattern! No two are the same.  
WEAR A MASK & LOWER THE CURVE
LENGTH: 5inches
WIDTH: 12inches
100% COTTON 
CARE:
Hand wash, tumble or lay flat to dry. (They are okay to wash in machine, but to have colors stay more vivid hand washing will be your best option.)
 A percentage of proceeds will be donated to DIRECT RELIEF to provide personal protective equipment and essential medical items to health workers responding to coronavirus (COVID-19). 


Please understand that there face masks are not a replacement for medical-grade Personal Protective Equipment, and in circumstances where medical-grade Personal Protective Equipment is recommended, you should consult a health care professional.  The decision to use this mask is solely your own.
FACE MASK DESCRIPTION
Cloth face coverings should—
fit snugly but comfortably against the side of the face
be secured with ties or ear loops
include multiple layers of fabric
allow for breathing without restriction
be able to be laundered and machine dried without damage or change to shape
CDC ON HOMEMADE CLOTH FACE COVERINGS
CDC recommends wearing cloth face coverings in public settings where other social distancing measures are difficult to maintain (e.g., grocery stores and pharmacies), especially in areas of significant community-based transmission.
CDC also advises the use of simple cloth face coverings to slow the spread of the virus and help people who may have the virus and do not know it from transmitting it to others.  Cloth face coverings fashioned from household items or made at home from common materials at low cost can be used as an additional, voluntary public health measure.